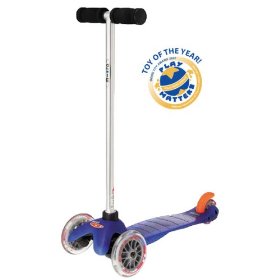 When our boys were two we had a 10 year old neighbor who was extremely cute and would come over to play with the boys most days after school. He would also ride his big kids scooters over thus inspiring a very early and obsessive love of scooters in the hearts and minds of certain twin boys. They could barely reach the handle bars of the big kid style razor scooter and if they managed to stand on the thing they would fall over immediately.  What we needed was a little kids scooter, a scooter for toddlers. Well, after exhaustive research on toddler scooters that consisted mainly of reading reviews on Amazon I ordered two Mini Kick Micro Scooters and a happy Birthday was had by all.
That's Speedy circa 2005 on his new third birthday toddler scooter.  Yes, this scooter is manageable even for little kids. They have two wheels in the front, making it more stable. They stand up on their own and are not at all tippy. They have a brake on the back wheel, but I think the boys were 4 before they noticed it.
The greatest part of this scooter is the slow, easy turning, a feature I haven't seen on any other scooter. Most have handlebars that actually turn, leading to accidental turning and then falling, tears and possible bleeding. The handlebars on this toddler scooter doesn't turn. Instead, when you lean the wheels turn slightly to the right or left, causing slow, gentle turning. There are none of those sharp turns which lead to the aforementioned tipping and potential bleeding.
I love my boys, but I don't think anyone would call them the most physically coordinated of children. They aren't overly clumsy or anything, but I am not anticipating any Olympic medals in their future or anything. Well, I was astounded by how well they managed to actually use these toddler scooters from a very early age.
Click HERE for more information on the Mini Kick Scooter
So, if your little one is begging for their older sibling's scooter, consider the Mini Kick Micro – now in pink too!